View web version | www.douglas.co.uk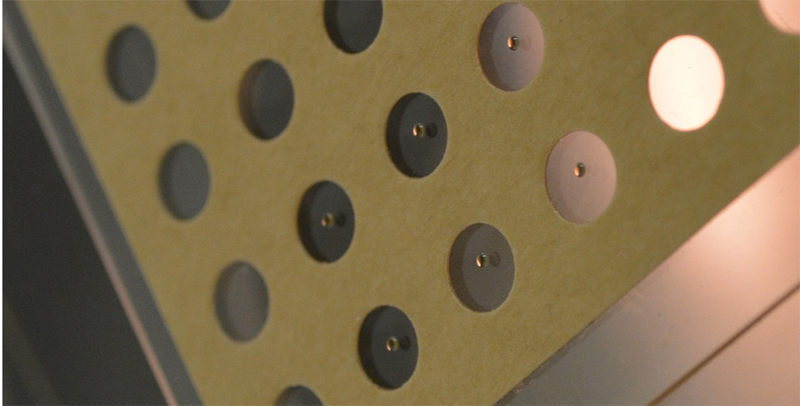 Lipidic Cubic Phase crystallization with the Oryx by Douglas Instruments
Lipidic Cubic Phase crystallization (LCP) is now available to order as an option or upgrade for Oryx4 or Oryx8.


With Oryx LCP you can:

• dispense volumes from 10 nL up to 1000 nL or more

• dispense LCP screening experiments to sandwich plates as well as vapour diffusion, microbatch, and 24 well hanging drop

• dispense a 96 well sandwich screen in under 25 minutes, and a 96 well vapour diffusion screen in under 15 minutes


Any phase change caused by evaporation from the LCP is prevented by covering the LCP volume with reagent immediately after it is dispensed.

During an experiment, the evaporation shield creates a humid / vapour saturated environment. This prevents evaporation from the reagent drop covering the LCP.

Software will soon be available for designing and dispensing LCP optimization experiments using our XStep software *. This can be used to create LCP optimization experiments with up to 7 ingredients such as pH gradients and multivariate designs. LCP dispensing is also available for additive screening, additive optimization experiments and simple 2-d grid optimizations.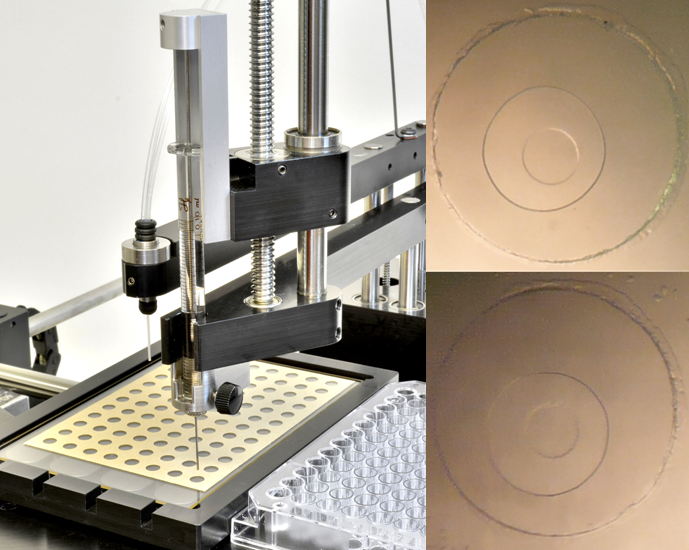 LCP screening experiment drops in image above, top and bottom right. 100 nL LCP + 1000 nL screen dispensed to Marienfeld LCP sandwich plate.
* LCP optimization experiments can be designed and dispensed with Oryx8

Douglas Instruments at ICCMB 15

If you are attending the ICCBM meeting in Hamburg please visit our booth.

We will be showing our new LCP dispensing arm, and pick up your FREE microseeding toolkit!






Contact us for more information
For LCP robot price information and enquiries please contact us: -

Hilary@douglas.co.uk

Recent citations of Douglas Instruments products
Structure of arylamine N-acetyltransferase from Mycobacterium tuberculosis determined by cross-seeding with the homologous protein from M. marinum: triumph over adversity (using random Microseeding, rMMS)
A. Abuhammad, et al.
Acta Cryst. (2013). D69

Membrane protein structure determination — The next generation
Isabel Moraes, Gwyndaf Evans, Juan Sanchez-Weatherby, Simon Newstead, Patrick D. Shaw Stewart
j.bbamem.2013.07.010

Protein crystallization with microseed matrix screening: application to human germline antibody Fabs (using random Microseeding, rMMS)
Galina Obmolova, Thomas J. Malia, Alexey Teplyakov, Raymond W. Sweet and Gary L. Gilliland
Acta Cryst. (2014). F70


Please contact us for further information....


To request a service please contact Stefan@douglas.co.uk.

To request a quote or demonstration please contact Hilary@douglas.co.uk
Douglas Instruments Ltd. All rights reserved.


Douglas Instruments Ltd
East Garston
Hungerford
Berkshire RG17 7HD
United Kingdom

Tel: + (44) 1488 649090
US toll free: 1-877-225-2034

Do you have a comment or question about protein crystallization or robotics that members of our bulletin board may be able to help you with?
Subscribe to the Automatic Protein Crystallization Group
Douglas Instruments