View web version | www.douglas.co.uk

Protein crystallization tips and tricks - analysis using polarizers with the UVXPO 'MRC' 2-drop plate
The new UVXPO 'MRC' 2 drop plate from Swissci offers advances in UV and cross-polarized imaging. The new plate has exactly the same dimensions as the original MRC 2-drop crystallization plate, but is made from a special polymer that is designed to maximize UV and polarized light.

Key features of the UVXPO 'MRC' 2-drop plate:

- Uniform background when using polarized light.
- UV imager compatible.
- More hydrophilic surface than the original MRC 2 drop UV plate (COC) gives better dispensing.
- OryxNano, Oryx4 and Oryx8 can dispense screening and optimization experiments.
- Oryx8 can dispense reservoir solutions for optimization.
- Oryx LCP systems can dispense LCP experiments to the plate.

The UVXPO 2-drop plate is available from Douglas Instruments.


Tips and tricks for using the UVXPO plate:

Although the UVXPO MRC plate has a very low uniform birefringence, when the plate is sealed, often the seal does have birefringence and acts a wave plate. This means one is unable to get a true black or white background as the polarizer is rotated with a normal plate seal.

To cancel out the waveplate effect, simply add a second layer of the same plate seal exactly perpendicular to the first.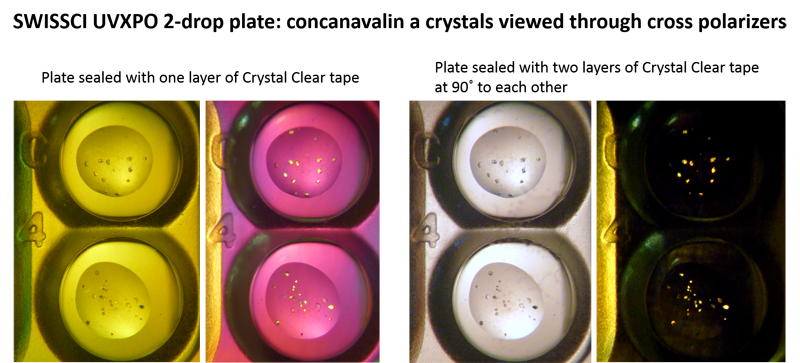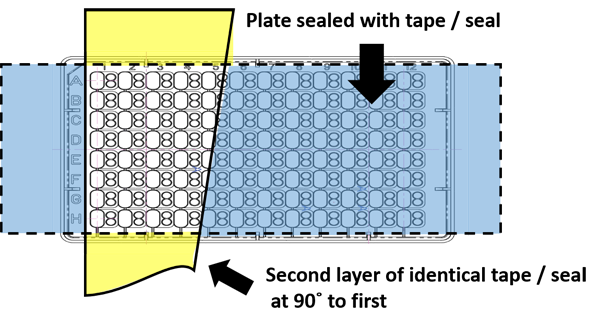 To request a quote or demonstration please contact Hilary@douglas.co.uk.

To request product support contact Stefan@douglas.co.uk

For anything else please contact Info@douglas.co.uk


Douglas Instruments will be at the following meetings:
Visit our booth and pick up a microseeding toolkit containing everything you need to do a MMS Microseeding experiment including the Hampton seed bead and crystal crusher.






Recent citations of Douglas Instruments products
Epitope mapping and structural basis for the recognition of phosphorylated tau by the anti‐tau antibody AT8

Malia, T.J., Teplyakov, A., Ernst, R., Wu, S.J., Lacy, E.R., Liu, X., Vandermeeren, M., Mercken, M., Luo, J., Sweet, R.W. and Gilliland, G.L.

Proteins. doi:10.1002/prot.24988 (2016)


Purification and Bicelle Crystallization for Structure Determination of the E. coli Outer Membrane Protein TamA

Fabian Gruss, Sebastian Hiller, Timm Maier

Methods in Molecular Biology 1329 (2014): 259-270


Structure of the novel monomeric glyoxalase I from Zea mays

G. L. Turra, R. B. Agostini, C. M. Fauguel, D. A. Presello, C. S. Andreo, J. M. González and V. A. Campos-Bermudez

Acta Cryst D 71.10 (2015): 2009-2020


Discovery and characterization of natural tropolones as inhibitors of the antibacterial target CapF from Staphylococcus aureus

Koichiro Nakano, Takeru Chigira, Takamitsu Miyafusa, Satoru Nagatoishi, Jose M. M. Caaveiro & Kouhei Tsumoto

Scientific Reports 5 (2015): 15337

Douglas Instruments Ltd. All rights reserved.


Douglas Instruments Ltd
East Garston
Hungerford
Berkshire RG17 7HD
United Kingdom

Tel: + (44) 1488 649090
US toll free: 1-877-225-2034

Do you have a comment or question about protein crystallization or robotics that members of our bulletin board may be able to help you with?
Subscribe to the Automatic Protein Crystallization Group
Douglas Instruments