Douglas Vapor Batch Plate
The Douglas Vapor Batch Plate is designed for both microbatch and vapor diffusion (sitting drop) crystallization. It has 96 wells in the center and several reservoirs around the outside. The reservoirs can be used to preserve microbatch crystals by preventing drying out of the wells, or they can be used for simple vapor diffusion experiments where up to 96 wells are equilibrated against a single precipitant (preliminary experiments suggest that this method finds more hits in screening experiments than the conventional method of using the same solution in the reservoir and the drop).

Two versions of the Vapor Batch plate are available: treated (hydrophilic) and untreated (hydrophobic). We recommend the treated hydrophilic version for most applications including screening. The untreated hydrophobic plates are useful for some optimization experiments and for some detergents and proteins. Experiments dispensed to the treated hydrophilic plates tend form disc shaped drops whilst experiments dispensed to the untreated hydrophobic plate tend to form rounder taller drops - Please see example drops in image below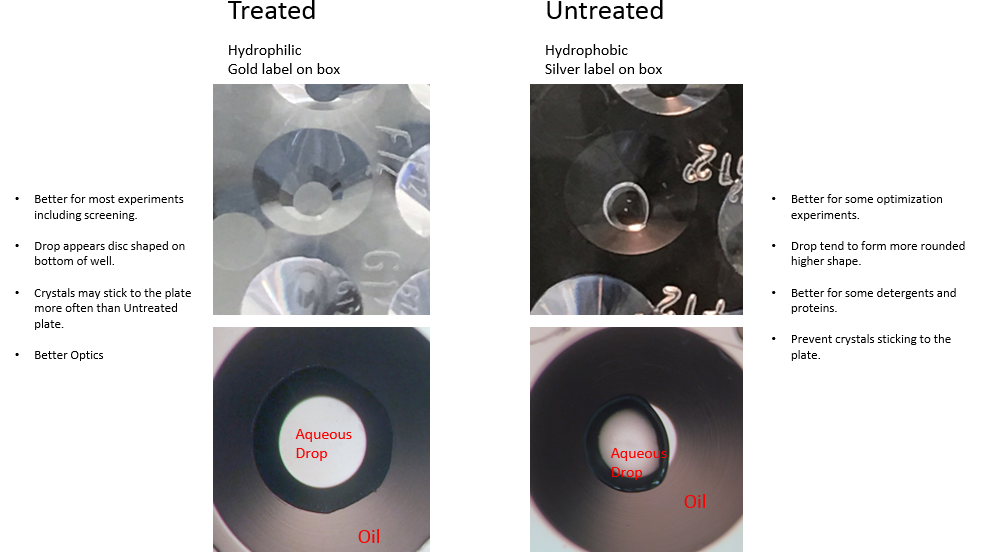 Advantages:
Prevents leakage of oil from microbatch experiments

Wells are individually labeled

96 wells (with a 4.5 mm spacing)

Can be filled with 8-channel pipettes (transferring 6 drops at a time) by filling odd numbered wells first, then even numbered wells

Suitable for microbatch crystallization

Suitable for vapor diffusion experiments where many drops are equilibrated against one reservoir solution

If crystals are not obtained in vapor diffusion experiments, the concentration of the reservoir solution can easily be increased

Because wells are smaller than Miniplates, HLA or Terazaki plates, they are more suitable for drops below 0.5 microlitres

Available as a hydrophilic version for screening or a hydrophobic version for optimization. (The hydrophilic version gives better liquid handling with small volumes, while the hydrophobic version reduces crystal nucleation and helps to prevent the crystals from sticking to the plastic)

If water or salt solution is placed in the reservoir wells of a microbatch experiment this will prevent the wells from drying out. Microbatch crystals will then last for up to several months.

Suitable for the transport of crystals (plates can be turned upside down without harming the drops)
Please click here for detailed instructions for using the Douglas Vapor Batch Plate.
Holders are available from Douglas Instruments to provide a regular Linbro or SBS ( i.e. regular 96-well) footprint.
The Douglas Vapor Batch Plate was designed and is manufactured by Douglas Instruments. It can be obtained from Douglas Instruments and from Hampton Research.
Douglas Instruments is running a competition for the best use of the Douglas Vapor Batch Plate.
Specification
| | |
| --- | --- |
| Material | Medical grade polystyrene |
| Length of plate at the base | 81 mm |
| Width of the plate at the base | 55 mm |
| Height of the plate with the lid on | 20 mm |
| Number of wells | 96 |
| Shape of wells | Truncated cone |
| Width of well at the top | 3.8 mm |
| Width of well at bottom | 1.1 mm |
| Depth of well | 1.8 mm |
| Volume of well | 9.3 microlitres |
| Typical volume of drop used in wells | 0.4 microlitres ( i.e. 0.2 + 0.2) using robot, 2 microlitres ( i.e. 1 + 1) by hand. |
| Minimum volume of drop used in wells | No limit |
| Maximum volume of drop used in wells | Approx. 20 microlitres. |
| Number of reservoirs | 4 reservoirs, each divided into three or four sections. (Reservoirs are in communication with all wells.) |
| Volume of each section of reservoirs | 1 ml |
| Total volume of reservoirs | 14 ml |

Ordering information:
For prices see the Products page.